2019-07-22 Review of "Women's Work" by Megan Stack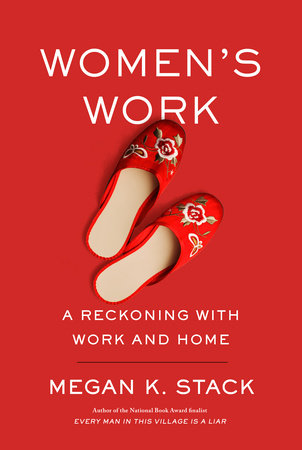 Five Stars!
Megan Stack is a foreign correspondent and has reported on war, terrorism, and political Islam from twenty-two countries. She and her husband Tom, who is also a foreign correspondent, were living in Beijing when their first baby was born. They later move to India where Stack had her second baby.
"Women's Work" is Stack's personal chronicle of the emotional upheavals that she faced after the births of her sons. An equally important theme of the book is an exploration of the complicated relationship between career women and the nannies whom they hire to help care for their children. Stack has addressed both issues with feeling and integrity. She does not take an easy out and challenges herself throughout. In the process the reader develops a deep understanding of, well, women's work in all its forms — birthing and child-rearing, career and marketplace success, and poverty and precarity for nannies who raise the children of the elite while being separated from their own children.  
Postpartum maternal anxieties
After the birth of her first baby, Stack's mother arrives from the US to help. Over the course of her two-week stay, Stack develops a new appreciation of her mother. Just as important, her apartment starts to feel to her, for the first time, like a "home," simply owing to her mother's presence. 
The moment my mother stepped into the flat, the knots in my gut slackened. Had she ever riled my nerves, had we really fought, sometimes bitterly? I had even, in my pregnant naiveté, considered telling her to stay home. To give us space. To bond. As a family. (Page 26)
Clearly, it takes a village not only to raise a child, but to fully become a mother (or parent), and to make a home. 
Postpartum differences between the working and non-working parent
All new mothers experience sleepless nights and massive hormonal changes. However, Stack suffers from additional anxiety because of her belief that, even while she is completely overwhelmed by her role as a new first-time mother, she must also engage in a professional endeavor of some sort.    
I had struggled mightily to resurrect the book after Max was born. It had felt, at first, exhausting and foreign — like trying to finish a story somebody else had started. …. I had to swallow another failure, and I had to do so in private, because listening to other people argue that it was not a failure or that I shouldn't mind — that was more than I could stand. … I had tried so damn hard. And I'd failed.   (Page 135)
Michelle Obama asserted last year that "… it's not always enough to lean in, because that shit doesn't work all the time." Stack's honest description of her struggles provides additional support for the idea that new mothers (parents) need to be patient with themselves as their hearts, minds, and bodies adapt to their new roles and priorities. 
Stack's husband takes two weeks off from his job as paternity leave. When he returns to work, Stack is confronted with the reality of the different trajectories on which her and her husband's lives will henceforth play out. 
I begrudged him, in some confused way, the airports and adventures that I had relinquished. Maybe I sensed that our fates were about to diverge radically; maybe I was trying, clumsily, to make him share my inconvenience and immobilization. (Page 12)
Many present-day relationships start out with both partners on a fairly equal footing. This changes abruptly with the birth of a baby. Stack's book is a primer on "what to expect when you are done expecting."   
Fraught relationship with nannies 
Stack is a thoughtful rebel. She refuses to accept her privilege of being able to afford hired help without sparing a thought — many thoughts — to the plight of the women who make her life of relative ease possible. She does not stop at describing the nannies' limiting life circumstances. She also dwells on how taking something for herself and her children inevitably means taking something from her employees and their children. 
My children were the lucky ones. They made no trade; it was all benefit. They soaked up the love and attention of extra caretakers. They were exposed to languages and cultures and tastes and sounds. … The children of Mary and Pooja and Xiao Li had to trade like grown-ups, and their trade was the most brutal of all: they got money but they grew up without mothers. (Page 333) 
When Stack decides to write this particular book, she tries to describe her premise to her expat friends. All of them rely on the cheaply available household help — nannies, cooks, cleaners, and drivers. Stack finds that her friends are extremely reluctant to engage with the uncomfortable thoughts and feelings that arise from contemplating the neo-colonial unequal relationships from which they are benefiting. 
As I began to exclude her from the photographic record, I realized that most of the families I knew seemed to do the same… They all said things like "Xi Ayi is like a member of our family." That sounded cozy and loving, as if the ayis were not laborers, but blood relatives or volunteers. But pictures don't lie. If you want to see the ambivalence that pervades domestic labor, check the photographic record.   (Page 80)
The problems under-girding these situations are more entrenched and pervasive than can be rectified by a few well-meaning or ashamed expats. Even so, I commend Stack for not sweeping these under the rug. 
Nannies loving their little charges
In Beijing Stack hires Xiao Li primarily to cook and clean. One of the most touching scenes takes place when Xiao Li begs to be allowed to care for the newborn. This is all the more astounding since the reader already knows that Xiao Li has a three-year-old daughter who is being raised by the child's grandparents in the family's ancestral village. 
How is this possible? It is almost easier to imagine the worker feeling envy and resentment than it is to understand the primal need to love and be loved. 
But, Xiao Li is a childless mother. The font of love in her heart and the longing in her body to hold and cuddle a chubby baby are not easily turned off. This helpless worker goes above and beyond her assigned duties not out of a desire to impress or rise, but out of a search for expression of love. 
This short incident is sensitively observed and is at once humbling and uplifting.  
Differences between India and China
Stack's descriptions of her life in New Delhi are stark and troubling. It is clear that the standard of living in India leaves much to be desired — despite the many luxuries that are within reach for an expat. Also, the caste and religion divides, the grinding poverty, and the intransigent bureaucracy are portrayed with balance. It is no surprise that all of these end up casting a shadow on Stack's life. 
My first glimpses of India had been ill-lit vignettes in taxi windows: market stalls tarped for the night; wild dogs staggering in gutters; bodies dead asleep on pavement. … I was greeted by faceless towers and vacant lots. With its listless men and drifts of rubbish, this part of Delhi resembled a hundred other vaguely post-apocalyptic towns I'd never hoped to call home. (Page 124)  
The saving grace, if it can be called that, is the ease of communicating with the two workers — Mary and Pooja — whom Stack hires. Apart from their familiarity with English, both women are more open and therefore more knowable than Xiao Li in China. They laugh, they cry, they sing, and they dance. They remain subservient, insisting on addressing Stack as Madame. But they are also subversive, revealing only selected aspects of their lives to her.    
Thanks to Mary and Pooja, Stack and her husband lead more assimilated lives in India than in China. And their two children do that to an even greater extent. Stack's openness to letting this happen deserves praise. 
Writing Style
Although "Women's Work" is a memoir, it shares many attributes with the immensely popular "The Help" by Kathryn Stockett. It portrays unequal relationships and the love that blooms between nannies and their charges with grace and skill. The reader develops a sense of the sights, sounds, and smells of the places where the story unfolds. The reader also develops an empathetic understanding of the precarious lives of the nannies.    
Stack is not a novelist. In fact, the novel that she worked on feverishly after the birth of her baby failed to land a publisher. So, it is not surprising that the memoir lacks a conventional novelistic plot and it uses dialog sparingly. However, this is not necessarily a failing. In delving deep into the social and cultural aspects of life in Beijing and New Delhi, Stack's book reminded me of "Go Set a Watchman" by Harper Lee. Sometimes peeling the layers of a complex society, and that too as an outsider, does not lend itself to a novelistic treatment. 
In summary, Women's Work is gripping and fast-paced. It is "Eat Pray Love" for the thinking new parent! 
My one criticism
Stack approached all three nannies to get their permission to write about them. Her meeting with Xiao Li was interesting because she finally got to meet one of Xiao Li's daughters. Xiao Li's reluctance to let Stack visit her home spoke volumes. In contrast, I found the description of Stack's visit to Pooja's ancestral village overly detailed and confusing. Pooja had already emerged as an unreliable narrator of her life story. I couldn't escape the feeling that Stack's interactions with Pooja's relatives were similarly unreliable or that Stack was unequal to the task of untangling the many undercurrents that were at play. So, I would have preferred a tighter narration in this section of the book. 
Summary 
The ironic idea that the careers of certain women become possible only through the labor and deprivation of other women is richly explored. It is definitely worth steeping oneself in. I have no doubt that a reader will find new wells of compassion and insight regarding how societies and economies are structured in the present era. For these reasons I believe that "Women's Work" is an important examination of women's work in all its forms.